Pine furniture has its pros and cons. For one it is easy to work with. Unfortunately, it is tricky to finish. This is a relatively inexpensive piece of furniture. And if you want to use it outdoors, you can. However, to ensure its longevity, make sure to apply pine tar wood finish first. 
The First Step is to Apply Pine Tar Wood Finish 
Sanding is vital to any finishing project. Although pine furniture is easy to sand, you can damage it easily. If you don't sand the growth rings correctly, they could wear down quickly. Use the right sander for this purpose. Make sure to set it at the lowest speed before working gradually up. 
After smoothing the surface, complete the job by hand sanding it. An orbital sander leaves circular swirl marks on the surface. But you can remove them through hand sanding. Keep in mind that pine furniture is easy to scratch. Thus, avoid belt standards as they can get away from you, thereby damaging the wood. After completely sanding the wood, clean away dust using a vacuum cleaner. 
Seal It
Pine absorbs stains at different rates. It also bleeds pitch through the finish. But you can minimize it by sealing the wood before staining it. Sealing will also prevent the wood from absorbing the extra stain, which can affect the overall result. You may use manufactured sealer or use your own. 
When sanding and sealing the furniture, it is smart to apply the products to a piece of similar wood to examine the results. It will also help you fine-tune the application so you can be sure you get the desired results. 
Staining 
Pine tar wood finish is best for outdoor furniture. It prevents rotting because it doesn't allow the wood to absorb moisture. But make sure that you have completely dusted the furniture before applying this stain. Pine tar wood is sticky. That's why you need to dilute it with oil, like tung oil. There are many wood finishes you can choose from. 
However, pine tar is an excellent option because it is a natural product made by distilling wood in an oven. It is derived from pine, which contains a huge proportion of resin and turpentine. When you choose to treat wood with this finish, you are adding natural substances that the tree uses to protect itself from infestation. It also prevents moisture from penetrating the wood but it still allows the wood to breathe.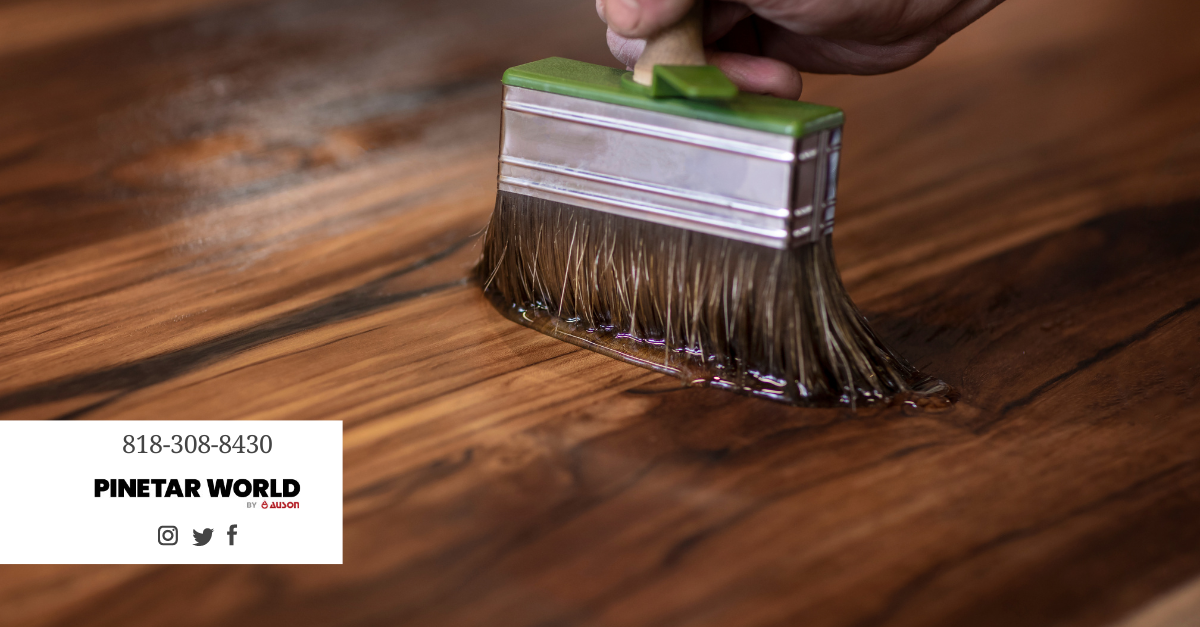 When is the Best Time to Paint Your Wood with Pine Tar? 
This wood finish can be sticky and it is challenging to dry it. That's why the optimal conditions when painting your wood with pine tar is early summer or early autumn. 
To know more about how pine tar wood finish protects your wood furniture, make sure to read our other posts. Or to shop for wood protection products, visit our online shop here.