Water can easily cause wood to break down causing molding and rotting. To protect your wood product, consider applying a pine tar wood stain. It is vital so that you can maximize your wood furniture, deck, or flooring. 
Wood Preservation with Pine Tar Wood Stain 
Pine tar is now used to create a barrier that is water repellent. The barrier to wood stops water from penetrating the wood. It has a form of antiseptic effect that further protects the wood product from any damage. 
Because of its many benefits, pine tar has become a popular wood preservative. It has also become a perfect substance for treated wood. It is compatible with preserving wood being used underground. 
Faster Penetration
This wood stain must be diluted with oil to ensure faster penetration. Thinning it with linseed oil, for example, can help in reducing the stickiness. It is easy to thin this stain. Simply mix equal parts of pine tar and organic linseed oil. Heat the mixture up to 80 degrees. Make sure to mix them thoroughly. When you apply it to the wood, the mixture must still be warm. The best thing about this wood stain is that it rejuvenates wood. However, you must never apply it to the skin.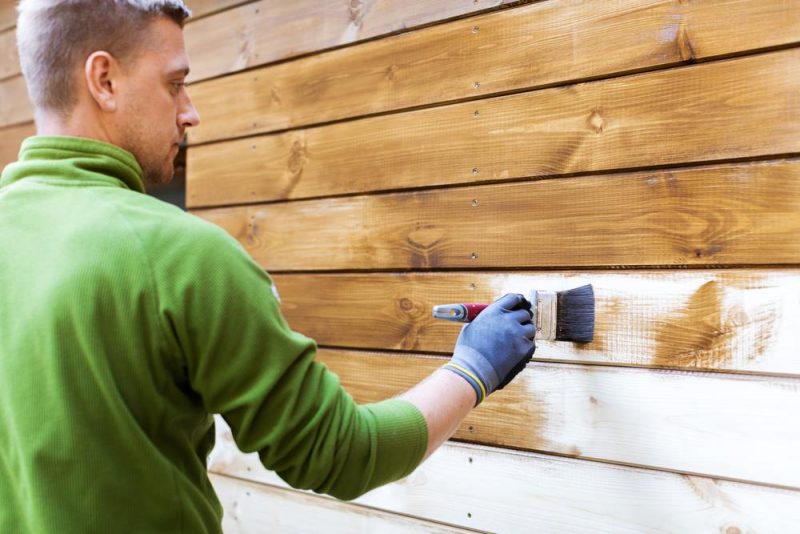 Withstanding UV Exposure 
Pine tar has been enhanced to endure strong UV exposure. It has good penetration even on rough timber and enables wood to breathe. As mentioned earlier, you need to thin it with organic linseed oil so that it penetrates into the wood faster. But you must apply it when it is as warm as possible to ensure faster drying time. 
Hot Weather 
The wood must be fully dry before you apply the stain. That's why it is highly recommended that you only apply this stain in hot weather. Summer is the best time to apply it on your fence, deck, and patio. The pigment may sink to the bottom of the container when you store it. For that reason, you must stir its content first before you apply it to the wood. In this way, you will get uniform color on the wood surface. You must finish applying this stain onto the entire surface to have even shades of color. As mentioned earlier, applying this stain will also make the wood product more vibrant. It protects the wood and highlights the stain. It adds color to the grain to liven up the wood. 
Where to Buy Genuine Pine Tar? 
There are many places you can find and purchase pine tar. However, only a few shops offer authentic produce. Here at Pine Tar World, we guarantee our customers that what they can get will be 100% pine tar that contains fatty acids and rosin. Although this wood stain is ideal to be used as a wood preservative, you must follow the instructions on how to apply it to the wood to achieve desired results. If you are not sure how to apply the pine tar wood stain onto your wood products, please give us a call as we are happy to explain it to you. Call us at (818) 308-8430.